Alexis Charitsis
Alt. Minister of Economy & Development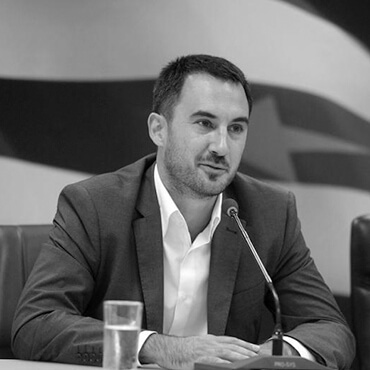 Alexis Charitsis is currently the Alternate Minister of Economy & Development, since November 2016.
He is responsible for Public Investments, European Structural and Investment Funds, as well as Industry and Growth Strategy.
He served as Secretary General for Public Investments – NSRF/ PA at the Ministry of Economy, Infrastructure, Maritime Affairs and Tourism (January – August 2015) as well as Deputy Minister of Economy, Development and Tourism (September – October 2016).
He holds a degree in Civil Engineering from the National Technical University of Athens (NTUA) and a Master's degree in Renewable Energy Sources from the University of Manchester.
He is also a postgraduate in the Department of Political Science and History of the Panteion University of Athens.
He has worked in the private energy sector for more than 10 years, both in Greece and abroad.